Current Members with Functioning E-mail Addresses
[JUN06] Chris D Baragwanath cbara*global.co.za
Age: 46 [as of 2006] Beginner: Yes
Interests: Automotive Elect. / Time keeping.
"My interest in Cars is primarily in the old BMC products and includes the Minor, the Mini, the Mini Moke (mine is No. 281 of the 300 assembled at the BMC Plant in the then Rhodesia, MGB and of the Landies (Series II). Am always interested in any discrete ccts. that can be used in restoring / improving the electrics of this generation of Cars, while keeping them authentic.
China is fast becoming a force to reckoned with and notice may of them here in SA. They are the apparent recent cause of an increase in basic metal prices, which for Copper has been 52% in this year. Seems they are buying up the place !
South Africa has a small but steady industry designing and producing electronic Fuel Injection Controllers and ECU's (Engine Control Units or 'Black Boxes'), and exports these extensively. (Bosch is a large customer). These are all based on embedded processors. Have not seen any anything PC based as yet, other than the diagnostics for the ECU's. For cheaper, small Cars I have seen electronic ignition controllers that are probably PIC based.
There is also quite a market in 'modified' programs for existing brands of ECU, (i.e. more power or more economy, alcohol based fuels) etc... that seems to do well locally.
These modern ECU,s are a b@#$%r to mend ! - Often there are no schematics for them, (only ever given out to 'official' repair depots) and then many of the IC's have 'house numbers' rather than the usual identifying numbers on them. Other IC's are specific to the manufacturer and / or LSI and so difficult ever to get spares for."
Country: South Africa (Zuid Afrika in Afrikaans apparently, hence the .za in the E-mail address).
[JUL06] Murray Cameron Current E-mail address: murraycam@tiscali.co.uk ; Old redundent E-mail address: 100703.63.*compuserve.com
Age: 71 [as of 2006] Beginner: No
Computers: ZX81, PCW512, Osborne486
Experience: 15 Years in building the more simple projects from magazines.
Magazine: EPE
Interests: Woodwork, DIY, Camping.
Qualifications: I Eng. HVAC Design Engineer. (Heating Ventilating & Air Conditioning)
[JUN06] Eric Edwards. eric@ericedwards.co.uk, Although eric*eddy11.fsnet.co.uk will still get through, I am using the domain name. GW8LJJ.
Age: 63 [as of 2006] Beginner: No
Computers: Main PC is Pentium 111 with 1GHz processor and 17" TFT monitor
Laptop is now 2.8GHz with 15" screen
Both running Windows XP and on Broadband
Several home-brew computers and a '386 laptop
Experience: Over 40 years, published PIC Book
Qualifications: C&Guilds Qual (old!) Written electronic Book on CD-ROM
Magazines: Dropped ETI and Elektor but still retain GQTV (BATV mag) and RSGB
Other: Ham Radio callsign GW8LJJ since early 1970s
Writing book on 'Practical Radio' which includes circuits and constructional details from simple Crystal sets to Double Superhets

Books:
Eric has published a PIC book called 'PIC BASIC - an introduction'. It includes a CD full of data, source codes, HEX codes and other info. GBP 23.44 inc. VAT. Picture of Front Cover.

Also available 3 other books for GBP 4.99 each [plus GBP 1 P&P] from eBay on-line Book seller:
Electronics Book - PICBASIC Projects Book - Radio Book1 README.

PLUS an Electronic book that he has produced on a CD-ROM for GPB 4.99 plus GPB 1 P&P. "LEARN ELECTRONICS THE FUN WAY. A 'PRACTICAL' ELECTRONICS BOOK WITH OVER 420 PAGES ON A CD-ROM. A FUN WAY OF LEARNING BY DOING." More Info Here.
BAEC Article:
How to get started in PIC Programming by Eric Edwards ; BAEC Newsletter No. 140 August 2001
[Added JUN06] H. P. Friedrichs hpf*gainbroadband.com. AC7ZL.
Age: ** Beginner: No
Computers: Variety
Experience: 20+ years experience as electrical engineer practicing a variety of engineering disciplines including Twenty-plus years experience in a variety of engineering functions including technical project/personnel management, hardware/software systems integration, design, implementation and repair of electronic hardware and software, and technical documentation. Fields of activity include computer, instrumentation, automotive, audio, aerospace, medical, and test equipment.
Programming languages: Assembler (Z80/64180, Microchip PIC, 8051), C/C++, FORTRAN, Pascal, Python, HTML, Clipper (dBase), SQL, Powerbuilder, DICOM.
Operating systems: Linux/Unix, Windows, OS2, DOS, and embedded realtime kernels (RTOS).
Hardware: Discrete, chip, and board-level analog, digital, and mixed-signal circuitry. PCB design. Factory automation, data collection equipment (transponders and bar code readers). Medical equipment and recording studio audio. Communications gear including RS-232, 422, broadband and TCP/IP. 3 phase power and cryogenic controls. Avionics test sets and other precision pneumatics. Lasers, motion control electronics.
Interests: Electronics, science, engineering, writing, composing/playing music, nature, dogs.
Qualifications: BSEE, U.S. EXTRA Class Amateur radio operator, 3 U.S. Patents, Author, 2 books.
---
Not all the processors, protocols, and languages mentioned above were familiar to me. So made a quick scout through the most reliable, informative and free source: http://en.wikipedia.org/ - wikipedia on-line encyclopaedia and turned up the following results:
Zilog 64180: a direct successor to the Z80 microprocessor of ZX81 microcomputer fame (released in July 1976), and totally compatable. Has a 16-bit address bus, instead of 8-bit.
RS-422 (substitute for the RS-232 over longer cable distances).
Data Rates: 10Mbits/s at 12 metres cable length ; 100Kbits/s at 1200 metres cable length. One driver can connect to up to 10 receivers.
SQL (Structured Query Language): is the most popular computer language used to create, modify, retrieve and manipulate data from relational database management systems over the internet.
PowerBuilder (sometimes abbreviated PB): is a computer application development system. Touted as a Rapid application development (RAD) system, it includes tools for drawing the user interface and reports, and accessing database content.
Digital Imaging and Communications in Medicine (DICOM): is a comprehensive set of standards for handling, storing, printing and transmitting information in medical imaging. It includes a file format definition and a network communications protocol. This protocol is an application protocol, it uses TCP/IP to communicate between systems. DICOM files can be exchanged between two entities that have the capability to receive the information - image and patient data - in DICOM format.
8051: a Harvard architecture single chip microcontroller (µC) developed by Intel in 1980 for use in embedded systems. It was extremely popular in the 1980s and early 1990s, but today it has largely been superseded by a vast range of enhanced devices with 8051-compatible processor cores that are manufactured by more than 20 independent manufacturers. It contains Processor (CPU), RAM (128 Bytes), ROM (4 Kbytes), Serial Port, Parallel Port, Interrupt logic, Timer etc.
Much more information here: Intel 8051 microcontroller.
---
Books: "The Voice of the Crystal" and "Instruments of Amplification" authored by Mr. H. P. Friedrichs. AC7ZL.
Photo gallery links:
VOTC Gallery - Pictures of the evolution electronic components from the "The Voice of the Crystal" book.
IOA Gallery 1 / IOA Gallery 2 - Pictures of the evolution electronic components from the "Instruments of Amplification" book.
The books are available in the UK through Camden at http://www.camdenmin.co.uk/.
The suggested retail price of "The Voice of the Crystal" is $14.95 USD and "Instruments of Amplification" is $19.95 USD.
A vendor list is here: http://www.hpfriedrichs.com/bks-buyit.htm.

Quote: My components are not antiques [described in the books]. They are projects designed to teach the principles of radio/electronics. The devices you saw were constructed with my own two hands within the last few years. Marconi has not touched these instruments...except in spirit.
"The Voice of the Crystal" describes the principle behind basic A.M. radio, and then goes on to describe the principles behind capacitors, coils, detectors and headphones. These explanations are accompanied by projects built primarily from garbage can items...screws, a plumbing fitting, an old cigarette lighter, a hank of wire, a cabinet magnet, and so forth.
"Instruments of Amplification" introduces the principles of amplification, and then describes a number of experimental amplifying devices including homemade electromechanical amplifiers, several homemade vacuum tubes (valves) and even a couple of experimental homemade transistors.
[Added OCT06] Alfred Kelf alfredkelf*tesco.com
Age: 75 [as of 2006] Beginner: No
Experience: Civil Engineering Management in the Philippines and Saudi Arabia. Designed Dog Frequency "Whistle" Circuit.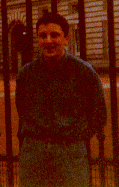 [JUN06] David Ledgard, BAEC Archive Hon. Webmaster david.ledgard@tiscali.co.uk
Has been a member since 1990 (studies permitting).
Age: 35 [as of 2006] Beginner: No
Experience: Digital Electronics, Programming, Making Printed Circuit Boards, Fault Finding, Electronic Theory, Building Projects in Electronics Magazines, and Computer Interfacing.
I have worked on the following kit:
Infra-Red Hand-dryers.
Electronic Gas Detectors.
PIC + Fibre-Optic Loop + Psion Laptop Controller driven Battery Monitoring Equipment. The system used two PICs each to monitor each indidual battery. One got the data, the other transmitted data via an RS-232 optical fibre loop to sucessive batteries terminating at a PSION laptop where stats could be viewed, and warnings given. This set-up was used for critical back-up-battery systems like Banks.
Psion SMT Palmtop Computers (note they went from straight from series 3 to series 5 without a 4 as this number is considered unlucky in China).
PIC Driven Medical Ventilators.
Interests: At present writing Internet Pages, Pascal Programs, and Computer Games including Historical Military/Industrial Scenarios & Interactive Fiction Text Adventures (entered in the 1998 annual IF competition), Interfacing Computers, Church, Gardening, buying and selling on eBay, going out in the Mini Bus.

Computers:
1982, £300: Commodore VIC20 - 22 chars./line + 3.5K memory + tape drive but with colour!
Games included Amok (killer Robots out to get you), and Bomber (where you are flying a plane and have to bomb all the skyscrapers before to descend to far and crash into them!). I also coded in BASIC: Bat & Ball, and Mines (where you have to balance workers, mine output etc... so you can keep of buying new mines). Also had ROM plug in games cartridges available for games like Galaxian, and Gorf.
1986, £1,000: Amstrad PC1512 (Alan M. Sugar TRADing) PC Clone with x2 5.25 Inch floppy disk drive and monochrome monitor. It had a primitive wordprocessor called wordstar which had about 6 disks that you kept having to change with Spellchecker! Games includes: Chess, Infocom Text Adventures (where you type in commands like GO NORTH, or UNLOCK DOOR WITH KEY... basically a book where you play the central character). Also had Turbo Pascal, a good compiler for it's day (designed by Computer Scientists not Hackers). A lot more classy than BASIC or C (which was cobbled to together by to programmers at Bell Labs to drive the UNIX operating system). See BASIC and Pascal download sections near top of main page. Built some electronic interfaces for it that drove, LED's, 7-segment Displays, Starburst alphanumeric Siemens, A/D converter, and SPO256 Speech Synthesizer. Double sided home made PCB card plugged in motherboard expansion slot, coded addressing to PC Prototype Port.
1990, £300 - no monitor or and only one drive: Commodore Amiga plugged into colour TV with annoying rear connector (or monitor), 512 Kbyte RAM (upgraded to 1 Mbyte), x3 floppy 3.5 Inch external diskdrives, and Icon driven. Also had built in speech synthesizer (what ever happened to computers you could talk to?). Classic games: Sim City, Railroad Tycoon, and Civilization 1.
1995, £1,500 + Interest (from Dixons of course, with extra 5 year cover - at a price! Plus costly monthly payments): Pentium 233 PC, with one 3.5 Inch drive, and a handy CD-ROM. Colour Monitor.
DELL DIMENSION 3000 PC with XP, Flat Screen (1024x768), Intel Pentium 4 (80'986) processor, 512 MByte RAM, x5 USB Ports (carry data and power on same cable). Upgrades & Extras: 146 GByte Harddrive (ordered x2 size), 3&frac12 Inch Floppy Disk Drive (1.38 MByte), CD Rewriter (ordered +write), 56K Modem, Word (with Spell Checker), and McFee Firewall & SPAMBlocker (£40/year!). http://www.dell.co.uk/tv, very good value! Basic unit £400 including delivery.
Qualifications:
1981-86 Comprehensive School: 'O' Levels (or equivalent, last year to do them in 1986): Computer Studies 'B' (wrote a programme to convert between the Decimal and Roman Numeral number system, try multiplied in Roman Numerals!), Mathematics 'C' (I think I could do better now), Electronics CSE 1 (made a two way intercom out of an electronics magazine on veroboard, with drilled aluminium box cover), Biology CSE 1, Technical Drawing CSE 2 (I didn't revise ;-( )... also studied Metal Work (with lath and blueprints - made a paint scrapper and balancing metal man), Woodwork, Cooking... The school also ran it's own farm as a lot of the pupils went on to work in agriculture (somewhere interesting to go before lessons, now sadly closed).
1986-88 Technical College: 4 Passes, OND Computer Studies (10 Distinctions, 5 Merits, 5 Passes). Computers included the Apple II and BBC Micro. Learn Spreadsheet, Wordprocessors, Databases, Pascal, BBC Assembler, MS-DOS (ripped off from C/PM designed by a Computer Scientist who got NOTHING for his efforts), Maths, Fetch-Execute Processor Cycle (Status Register, Flags: Zero, Carry, Divide-by-Zero error... Accumulator, Programme Counter, ALU - Arithmetic and Logic Unit...).

Also COBOL (COmmon Business Oriented Language) designed in 1959 by a Committee of Computer Scientists for the United States Department of Defense. Used by Banks a lot. The old computers had very limited RAM and disk / tape space so most programmes only stored the date as two digits. The 2000 year seemed a very long time away. So many old COBOL programmers had to be recalled from retirement to fix this 'Y2K' problem.
Incidentally as there are 1024 bytes in a Kilobyte (not 1000!) Y2K is actually 2048! Also note Psion Laptop computers calculate their date from 1980 in seconds! So they will face a date problem in about 2030 when the maximum number of seconds in reached. They have procedures to convert the zillions of seconds number into year, month, day, hour, minutes, and seconds.

1988-90 Polytechnic: HND Information Technology (11 Distinctions, 4 Merits, 5 Passes). Computers included the Icon driven Apple Mac with Image Writer printer, VAX mainframe (lots of dumb terminals - keyboard and monitor talk to the main computer), and 68000 based processor. Languages included Modula-2 (Pascal with libraries), C, and Z80 & 68000 Assembler. Studied 7 layer networking (RS-232 25-pin D-type serial port: NAQ, AQ, Tx, Rx, Gnd... Parity Bit checks... can use 9-pin, like what drives Dial-up Modems), and packet switching (used by the Internet to divide a big file into small chunks each sent, registered, and reassembled). Programmed RS-232 Serial Link, Spreadsheet, Modem Dialer (goes through all the possible Baud rates until it hits one that gives a recognisable signal). I did the low level stuff in C (which is good for bit twiddling). It was hacked together by two Unix Operating System programmers at Bell labs. Not classy like the languages designed by Computer Scientists.
1991-1994: BEng Electronic & Electrical Engineering (2i Hons.). Algebra, Trig., Advanced Mathematics, Servo-Motor Theory, Robotics...
1998: Two 10 Week Technical College Courses: 'Introduction to the Internet' (E-mail, World Wide Web, History, URL's...) and 'Writing Web Pages', HTML (Hyper-text Mark-up Language used to write webpages)... Most useful.
[Entered Oct 2006] Simon Murphy Current E-mail address: simon.murphy@ltmuseum.co.uk.
Age: 32 Beginner: Yes - more or less
Computer(s): Apple Imac G5 (OSX), Apple G4 (OS9)
Experience: Been making small battery-powered guitar effects boxes and doing some maintenance on 1950s-60s valve amplifiers since around 2002.
Interests: Playing & recording music, old electric guitars, amps, effects pedals etc Qualifications: Nothing relevant to electronics - BA Political Economy, MA History of Film & Video.
Simon Murphy
Curator (Film & Photos)
London's Transport Museum
39 Wellington Street
London WC2E 7BB
U.K.
Telephone 020 7379 6344
ext 2277
Fax 020 7565 7252
Service upgrade... new Museum arriving 2007...
A dramatic world cities welcome gallery...
rich design collections on permanent display...
even more for families...
exciting new exhibitions about the past, present and future of transport in London.
Visit our website for more information www.ltmuseum.co.uk .
[Entered Oct 2006] Giorgio de Prez Current E-mail address: giorgiodeprez@tiscali.it, no longer giorgiodeprez@numerica.it
Lives in Italy, and suggested and contributed to the PIC Zone. PIC Microcontrollers: simple one chip few KByte Computers with interface lines, programmable by Op-codes or PIC BASIC. Used in things like washing machines, and car engines - also can programme things like traffic lights, binary LED counters and push buttons. They were very popular during the later years of the club, and there is a store house of knowledge about them in old BAEC Newsletter articles, and amoung members who I am sure would be happy to help other members new to the subject.
[Entered Feb 2005] Sam Sainsbury (male) Current E-mail address: SPe@electronics.karoo.co.uk
Has been a member since 2005 or before.
Age: 25 [as of 2006]
Computer: 1.7GHz Athlon, 266 Pentium (felt sorry for it) wireless networked.
Experience: Worked as an engineer for several electronics companies and currently for a fruit machine company, do some electronics design freelance sometimes (nothing special!).
Interests: Electronics, Tesla, PIC's and some computer programming and I will try to repair most electronic equip. I have been seriously interested since I was 14.
Qualifications: C&G 2240 1+2 6958, 2248, PC and peripheral repair, ONC 1+2 PIC microcontroller programming, PAT Testing, Military Electronic/Elec (Vehicle electrics) and PCB repair.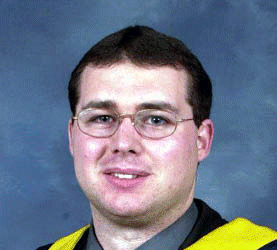 [JUN06] Allister Ross Smith
Prefered E-mail: ally_smith3d@yahoo.co.uk; also allister_smith@yahoo.com but not 0011378@tay.ac.uk.
Age: 31 [as of 2006] Beginner: Yes
Computer: PC P166 with CDR-RW
Experience: Slowly building up practical experience, but more into theory.
Interests: Computer Programming, interfacing, computer applications / IT, semiconductor manufacturing, robotics, artificial intelligence, getting into PIC (16F84) microcontroller, teaching and mechatronics.
Qualifications: NC Mechanical Engineering, part of BEd(Hons) Technology degree, HND Mechatronics PLUS BSc(Hons) Mechatronics, PLUS in Technological Education, SSE Fellowship and working on my MSc in Engineering Information Technology (Mechatronics). (Semiconductor Manufacture, and Design) with about half HND at Merit, now at University of Abertay-Dundee in 3rd year of BSc(Hons) Mechatronics. Has Workplace Assessor (D32/33) and is a Registered ELS Lecturer.
Magazine: EPE via 'net
Webpage: I did obtain my D32/33 Workplace Assessor and am a college lecturer at the Adam Smith College, Fife http://www.adamsmithcollege.ac.uk
I also have a keen interest in my church http://www.catch-up.org.uk/ and http://www.culross.org/abbey.htm.
[JUN06] Philip Miller Tate Current E-mail address: Philmt59@aol.com ; Old redundent E-mail address: p.millertate*kingston.ac.uk
Age: 46 [as of 2006] Beginner: No
Experience: Keenly interested for 30 years, serious experimenter for last 15 years.
Eight-year sabbatical in the World of Work: Senior Scientist, Plessey Research (Caswell) Ltd from 1980. Development of high-speed infra-red PIN diode detectors for optical-fibre telecommunications systems, culminating in the fastest 1.6 micron detector made to that point in 1983; then development of electron-beam lithography technology.
Recent career: Senior Lecturer in Physical Chemistry at Kingston University from 1994. Qualified with Postgraduate Certificate in Teaching and Learning in Higher Education (PGCHE) in 1998. Still engaged in active research in polymeric materials as part of the Materials Research Group in the School of Chemical and Pharmaceutical Sciences.
Interests: Largely amateur, plus some industrial, general interest in all fields, but tends to avoid 'black box' IC designs. Excel 97 Spreadsheet for Chemistry and Computing
Qualifications: BSc Upper second class honours, Applied Physics and Chemistry.
"Back to the Ivory Tower: Research Assistant, University of Kent at Canterbury from 1988, working on design, synthesis and evaluation of novel electron-beam polymeric resists. (These are basically radiation-sensitive plastics that are used in the manufacture of integrated circuits or (I hate this word) microchips.) PhD 1992 grandly titled "Intramolecular exciplexes and the radiation crosslinking of substituted polystyrene derivatives". Two more years as post-doctoral researcher, and then I couldn't stand any more, and so..."
Magazine: EPE
Webpages:
http://members.aol.com/philmt59/ - Welcome to my world...
http://members.aol.com/philmt59/crystal_radio_home.html - Crystal Radios text, pictures and Links.
http://members.aol.com/philmt59/anecdotes.html#hunwicks - How I first discovered crystal radio.
BAEC Articles:
Electronics of the Cheap ; BAEC Newsletter No. 127 March 1998
Experiences constructing the "Diotran" Radio Receiver Kit with Order of Construction, List of Components, Schematic Diagram, and Component Layout Diagram. By John Davies and Philip Miller Tate ; BAEC Newsletter No. 128 June 1998
Why I like Transistors ; BAEC Newsletter No. 128 June 1998
[JUL06] Norman Webster Current E-mail address: norman.webster05@tiscali.co.uk ; Old redundent E-mail address: postmaster*amocs.u-net.com
Age: 75 [as of 2006] Beginner: No
Experience: Built dozens of electronics projects over the years. Currently building a Garage 'Door Open' Sensor using a Bright Red low power LED with 470W, 555 Timer, Cable, and Micro Switch Sensor.
Qualifications: Electrical / Civil Engineer. Worked in the Middle East and Africa maintaining and repairing cranes used to build tall buildings.

[JUL06] Ray Williamson Current E-mail address: raymond.williamson@tiscali.co.uk ; Old redundent E-mail address: ray*fonthill13.freeserve.co.uk
Experience: Converting 3.5 inch floppy disk drives for use with Amstrad PCW computers, normally replacing the original three-inch units (Newsletter article in preparation). A few made-up units are available for sale, complete with metalwork and fixings for various machines. Electronic photographic flash.
"I am Curator of a club collection of military and aviation memorabilia in East Sussex. This includes radio equipment (non-working) and a couple of field generators (working) intended to be dropped by parachute for powering T/X sets.
I also produce digital films for local charities and voluntary groups (not exactly hands-on electronics)!"
Qualifications: Took Elec. Eng. course at UMIST before switching to photography.